Some of the Wealthest "pastors" in the world . . .
---


Back to Paul Harrell's Sermon Notes.
Some of the Wealthest "pastors" in the world . . .
Joseph Prince, $5 Million . . .
Hailing from Singapore, Joseph Prince (the head pastor of the esteemed New Creation Church that was founded in 1983) wracks up a whopping 550,000 U.S. dollars a year. The NCC is one of the largest churches in Asia, But that amount of money pales in comparison to The New Creation Church's annual income of 44.7 million U.S. dollars (estimated in 2008). Joseph Prince doesn't just stay in Singapore; he travels the globe for his sermons and even hosts a religious T.V. program called "Destined to Rain" which broadcasts to over 150 Countries worldwide. Joseph Prince publishes his sermons in the form of books and CDs to supplement his income from the FCC and can be found online in the form of podcasts and streaming. In the United States his publications have reached the top 100 chart for the sale of Christian Literature, and his status as a successful author has merited his appearance on the cover of several magazines.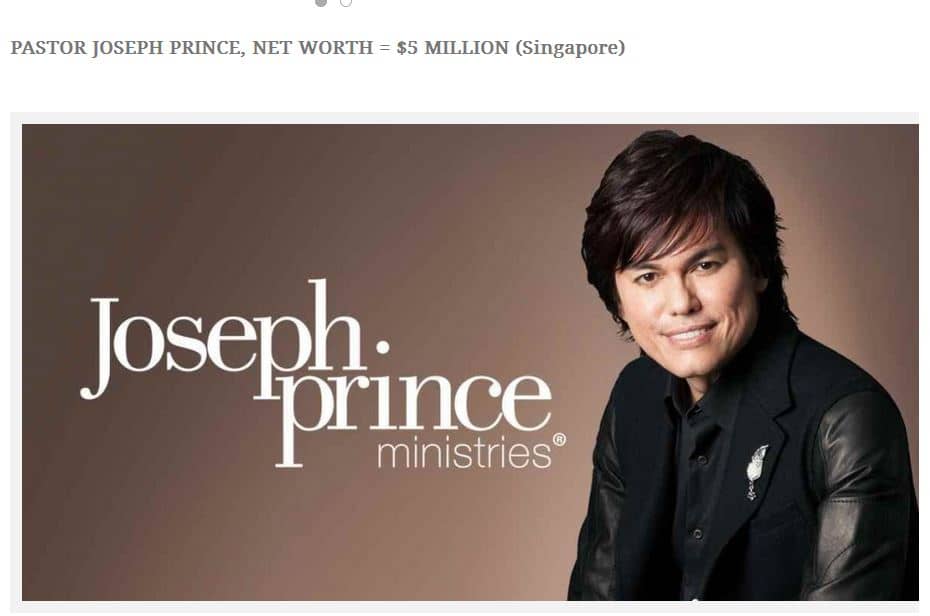 Chris Okotie, $3 Million . . .
Chris Okotie (full name Christopher Oghenebrorie Okotie) is the head of the Household of God Church, and a successful Nigerian televangelist. The HGC is a Pentecostal congregation based out of Lagos, and has been running at full capacity since early 1987. Chris Okotie has 17 published books to his name, and several publications in local Nigerian newspapers; he is seen as a local authority of the faith and a large portion of the Nigerian people turn to him for guidance on religious issues. Most pastors stop at book deals and royalties, but Chris Okotie ran for Presidency three times in 2003, 2007, and again in 2011. Although he lost each time he ran for office, Chris increased his outreach and reputation, and turned that into even more cash! Chris certainly has a taste for the luxurious life, and owns several high performance cars.
Al Sharpton, $5 Million . . .
American civil rights activist, Baptist "minister" and radio show host Al Sharpton has earned his net worth through his radio show Keepen' It Real as well as his regular guest appearances in Fox News such as The O'Reilly Factor, on CNN and on MSNBC.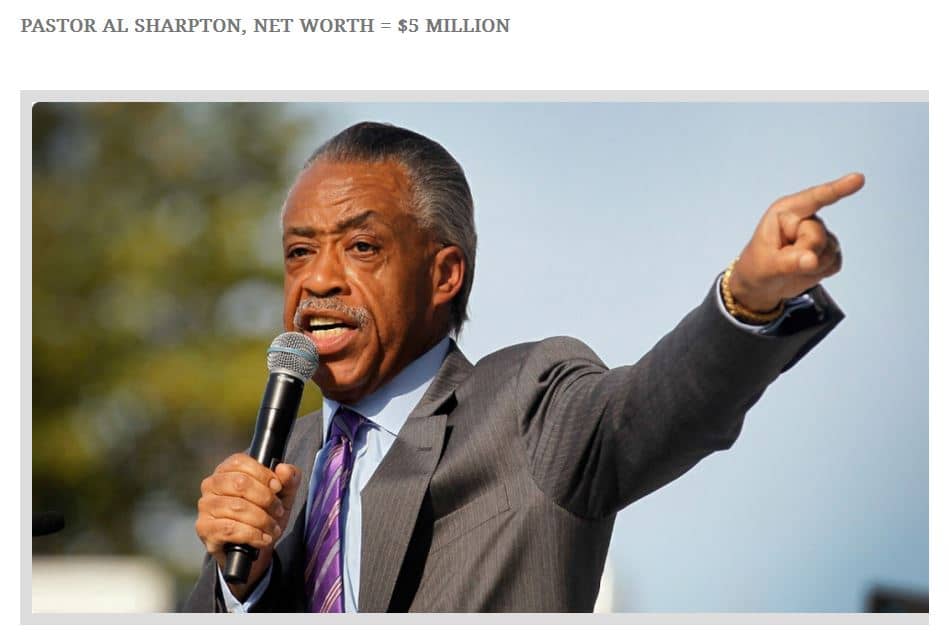 Reaction to Ferguson Decision Shows Racial Divide Remains Over Views of Justice, also 'reverend' Al Sharpton, thief . . . .doc

Jesse Jackson, $10 Million . . .
American civil rights activist and Baptist "minister" Jesse Jackson has been a prominent civil rights activist, United States shadow Senator for the District of Columbia from 1991 to 1997, and the founder of the civil rights organization Rainbow/PUSH.
Department of Justice, DOJ, giving money from Bank Of America Settlement To Barack HUSSEIN Obama's Liberal Activist Groups, aka the former ACORN group . . . .doc


Wealth of The Churches . . . Laodicea or Babylon.doc

Prosperity 'gospel,' judge not . . . , stealing from by making merchandise, i.e. -- selling or hawking something false . . . , be content.doc

Luke 4 and the 'prosperity gospel'.doc

http://www.trend-chaser.com/politics/richest-mega-pastors-america/?utm_campaign=rmp-d-us-160705-tc-tb&utm_content=21ac53&utm_source=tb&utm_medium=cpc&utm_term=tbx-wnd-https%3A%2F%2Fconsole.brax-cdn.com%2Fcreatives%2Fb86bbc0b-1fab-4ae3-9b34-fef78c1a7488%2Fjoel_pastor_3ec1dc2f397a0fc3b7037be26d552241.png-10+Mega+Pastors+Bank+Accounts+You+Won%27t+Believe

Billy Graham and the Roman Catholics -- together . . . .doc

Error of Balaam, filthy lucre, 2.htm

Error of Balaam, filthy lucre, 3.htm

Error of Balaam, filthy lucre, 4.htm

Error of Balaam, filthy lucre, 5.htm


Back to Paul Harrell's Sermon Notes.

Back to Paul Harrell's Second page.

Back to Paul Harrell's Home Page.





Alemattec_CS@hotmail.com
Copyright © 2012 Paul S. Harrell

---